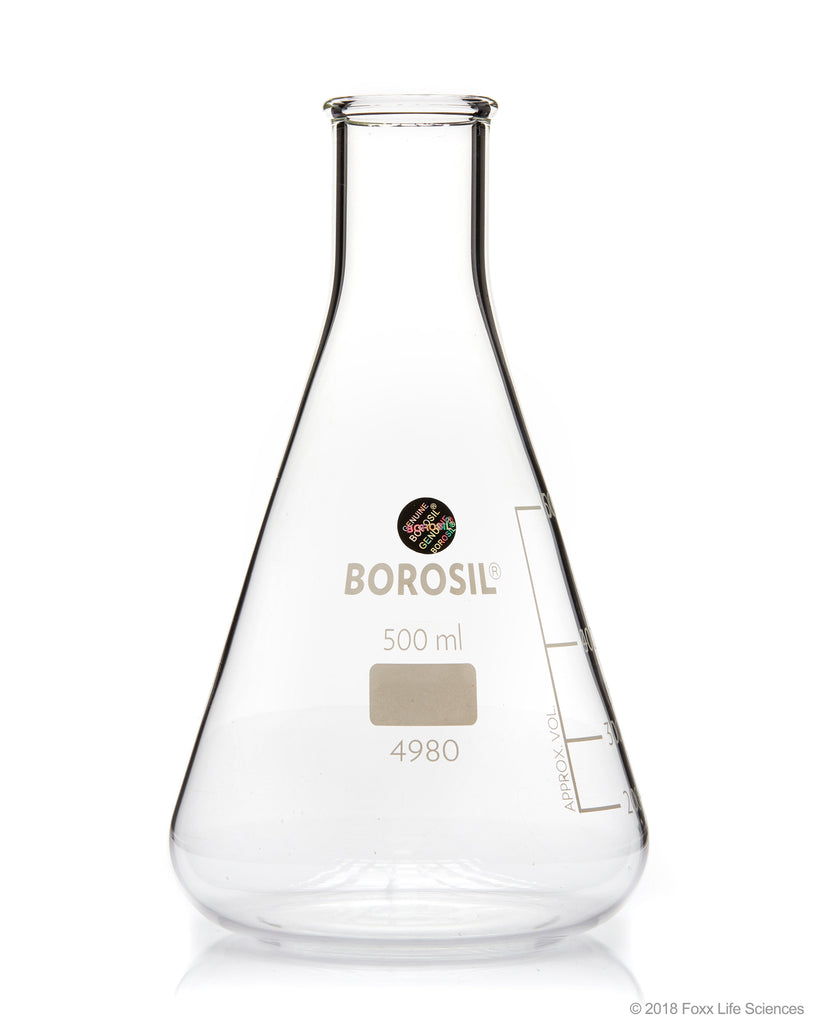 Borosil
Borosil® Erlenmeyer Flasks Graduated Conical NM Borosilicate 3.3 ISO 1773 CS/40 500 mL
---
Type 1 Narrow Mouth Conical Flasks
Borosil® Erlenmeyer 500mL Flasks feature a conical, narrow mouth made of Borosilicate 3.3 glass and have a uniform wall thickness.  Clear, graduated flask also has a larger marking area, is ISO 1773, and comes in a case of 40.
Laboratory flasks are typically used for  making solutions or for holding, containing, collecting, or volumetrically measuring chemicals, samples, solutions, etc. for chemical reactions or other processes such as mixing, heating, cooling, dissolving, precipitation, boiling (as in distillation), or analysis.

SPECIFICATIONS
Manufacturer: Borosil

SKU/Product Code: 4980024

Quantity: Case of 40

Material: 3.3 Borosilicate Glass  

Class/Quality Grade: Type 1

Bottle  Volume: 500mL per flask
Color:  Clear
Shipping Dimensions: 22.44" L x

22.44

" W x 16.54" H
Shipping Weight:  27.7  
DOCUMENTATION
Datasheets Coming Soon!
VIDEOS
Videos Coming Soon!  
Check out all of our videos on our
YouTube Channel!
---
Share this Product
---
More from this collection