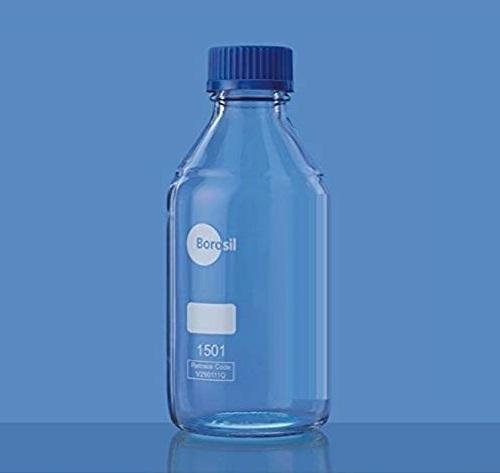 Borosil
Borosil® Clear Reagent Glass Bottle with GL45 Screw Cap 1/CS - 10L/10,000ML
---
Limited Stock!
Borosil® Reusable Round Clear 3.3 Borosilicate Glass Media Storage Bottles are Easy to Open with the GL 45 PP cap, Autoclavable PP Pouring Ring and Enamel Marking Spot, 10L/10,000ML, 1/CS.
A colorless PP pouring ring allows for drip-free emptying. Borosil® Media Glass Bottles are suitable for storing media, buffers, serum, solvents & other materials. Fully autoclavable.  
Foxx Life Sciences is proud to bring the outstanding quality of Borosil® Type 3.3 Borosilicate glassware to North America for the first time. Manufactured from the same USP Type 1 borosilicate glass that North American scientists have come to trust, Borosil® Laboratory Glassware offers unparalleled mechanical strength, clarity, and reliability at competitive prices. And thanks to a unique annealing process, Borosil® Glassware is stress-free and incredibly resistant to thermal shock.
Specifications
Quantity: 1
Manufacturer:

 Borosil®  

Product Dimensions: 395mm (15.5") H x 230mm (9.06") D
Shipping Dimensions: 250mm (9.84") L x 250mm (9.84") W x 450mm (17.72") H
Product Weight: 4.08 kg (9 lbs.)  
Glass Grade: 3.3 Borosilicate
Color: Clear
Capacity: 10L/10,000ML  
Graduation Range: 1,000-9,000 ml
Graduation Interval: 1,000 ml
Graduation Color: Ceramic White
Class/Quality Grade: USP Type I, Class A
Neck Type: Threaded
Neck Specification: GL 45
Minimum Temperature (Celsius): -40
Maximum Temperature (Celsius): 140
Autoclavable: Yes
Complies With:  IS 1388 (Part 1), EN ISO 4796 - 1
Individual Serial Number on Product: Yes, Retrace code
US Harmonization Code:  70179090
Country of Origin: India
Animal Free: Yes
For Use With:  1503, 1504, 1505
Application:  Media Storage, HPLC, Vaccines storage, API/Intermediaries storage.
For Use In: Microbiology, Dairy Products, Serums, Pharmaceuticals.
Care & Maintenance of Borosil® Glassware  
Learn more about Borosil®
View our full line of Borosil® Products
Video
---
Share this Product
---
More from this collection