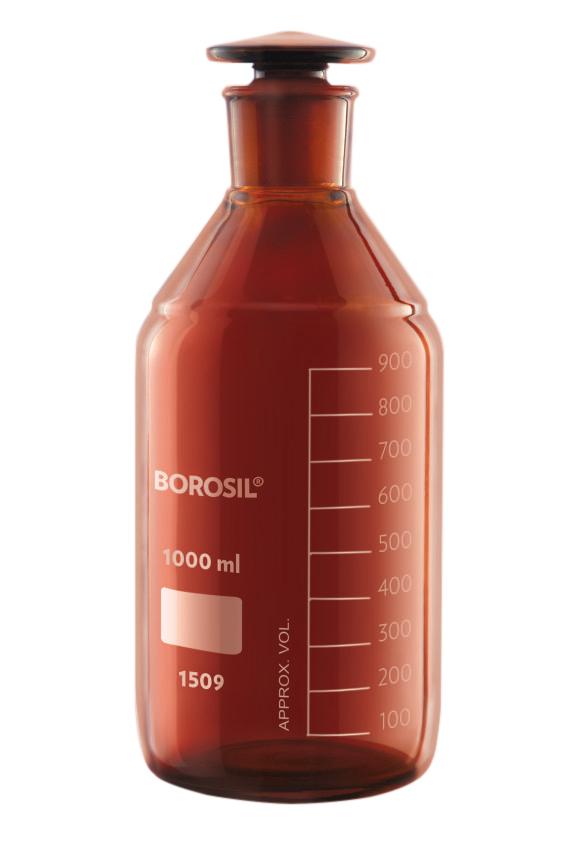 Borosil
Borosil® Bottles - Reagent - Amber - with Stoppers - 100mL - 14/23 - CS/10
---
Borosil® Amber Reagent Bottles, Plain, Narrow Mouth, Graduated with Interchangeable Flat Head Solid Glass Stopper, Ground neck, Borosilicate glass, Durable Matt finish enameled area for marking, 100mL, CS/10
Borosil® Amber Reagent Bottles, graduated with interchangeable amber flat head stoppers are chemically resistant and mechanically strong. These narrow mouth storage vessels have a sturdy ground neck and come standard with graduations and an enameled area for easy marking. The amber color is highly durable and protects light-sensitive media from light radiation. All components are autoclavable and sterilizable. High resistance to thermal shock up to 140 °C. Complies with IS 1388 (Part II), EN ISO 4796 - 2. *60mL & 125mL not covered in IS and EN ISO standards.
Specifications
Material: 3.3 Borosilicate Glass

Color: Amber
Capacity: 100mL
Graduation Range: 50- 100mL
Graduation Interval: 50mL
Graduation Color: White
Approx O.D. x Height: 56mm x 105mm
Neck Type: Grounded neck with I/C Stopper
Neck Stopper Size: 14/23
Class/ Quality Grade: Type I
Quantity Per Case: 10
Documentation
Datasheets Coming Soon!
Videos
Videos Coming Soon!
Check out all of our videos on our
YouTube Channel!
---
Share this Product
---
More from this collection