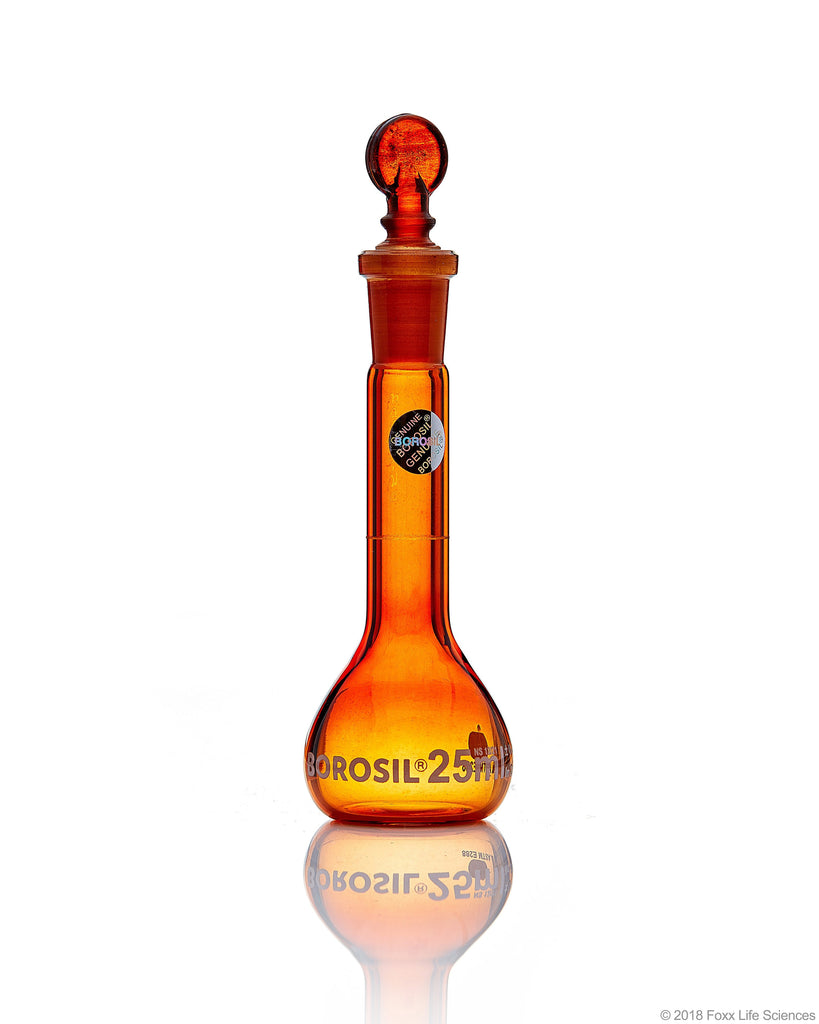 Borosil
Amber Volumetric Flask - Wide Neck - With Glass I/C Stopper - Class A - Ind Cert 25 mL - 5/CS
---
Amber Volumetric Flask With Glass Stopper 25ml
Borosil Wide Mouth Amber Volumetric Flask with Interchangeble Solid Glass Stopper, Accuracy as per Class A, ASTM E288 with Individual Certificate, Borosilicate 3.3 USP Type I, 25 mL, CS/5
Borosil Amber Volumetric Flasks are manufactured from 3.3 borosilicate USP Type I glass with an amber coating on the exterior surfaces to facilitate use with light sensitive solutions. The flasks are individually calibrated following an automatic calibration process which comes with the highest quality standards according to EN ISO 1042 & USP (E 288). Strict quality control through all steps eliminates possible deviations from normal volume. Volumetric Glassware offers the right mix of quality and efficiency for numerous objectives. Each flask is engraved with individual serial numbers and given a certificate of calibration traceable to National standards.
Specifications
Material: 3.3 Borosilicate Glass

Color: Amber
Capacity: 25 mL
Class/ Quality Grade: Type I, Class A
Tolerance: 0.08 mL
Quantity Per Case: 5
Neck Type: Solid Glass Stopper
Neck Specification: Grounded
Stopper Size: 12 / 21
Autoclavable: Yes
Certified and Calibrated at 20 °C
Accuracy as per Class A, ASTM E288 with Individual Certificate
Documentation
Datasheets Coming Soon!
Videos
Videos Coming Soon!
Check out all of our videos on our
YouTube Channel!
---
Share this Product
---
More from this collection