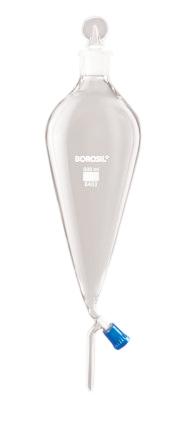 Borosil
Borosil® Funnels - Separatory - Pear-Shaped - Boroflo PTFE Screw Thread - 2L - 29/32 - CS/10
---
Borosil® Glass Separating Funnel Pear Shape, Boroflo Stopcock with PTFE key, Interchangeable Glass Stopper, USP Type I Borosilicate 3.3, ISO 4800, 2L, CS/10
Borosil® Funnels may be used to separate solids from liquids, liquids from liquids, and occasionally for pouring something into a container. The Pear-Shaped Separating Funnels comply with IS 1575, DIN/ ISO 4800. These funnels are specifically molded and the stopcock bores, body openings, and stems are carefully aligned to facilitate smooth and even flow of liquid with fast cut-off capabilities. This version comes with a Boroflo stopcock with PTFE key and is pear-shaped with a stem.
Material: 3.3 Borosilicate Glass

Color: Clear
Capacity: 2L
Stopper Size: 29/32
Class/ Quality Grade: Type I
Quantity Per Case: 10
Datasheets Coming Soon!
Videos Coming Soon!
Check out all of our videos on our
YouTube Channel!
---
Share this Product
---
More from this collection